Location
Humboldt 1550, Ciudad de Buenos Aires
Workshop Information
11:00 - 11:20: Acreditación y café de bienvenida
11:30 - 12:00: La Palabra como Herramienta de Cambio - Pia Torres
12:00 - 12:30: Las buenas oradoras no nacen, se hacen - Belén "Panda" Torres
12:30 - 13:00: Diapositivas a conciencia - Evangelina Ferreira
13:00 - 13:45: Almuerzo
13:45 - 15:45: Sesiones de mentoreo para el armado de un CFP
15:45 - 16:00: Break
16:00 - 16:15: Presentación de comunidades y eventos
16:15 - 17:00: Presentación de charlas de participantes
Organiser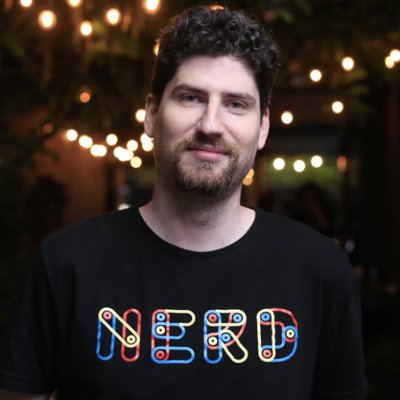 Ariel Jolo
Reason for being involved in workshop:
I think this is a great initiative to encourage people to apply to event's CFP and have more diversity on the stage
About Ariel
: Community leader
Mentor
Eva Ferreira
Reason for being involved in workshop:
👩‍💻
About Eva
: Evangelina Ferreira es front-end developer en Aerolab, docente de la Universidad Tecnológica Nacional y Google Developer Expert. Le encanta leer estándares web, tanto como Harry Potter. En su tiempo libre habla con sus gatos, anima unicornios y organiza la CSSConf Argentina.
Mentor
Alexander Santana
Reason for being involved in workshop:
The power to impact has to be democratized. If people get involved in sharing knowledge and expertise more often, we will have a more prominent community. I want to help new speakers to do it so!
About Alexander
: General Manager at Seedstars, International Facilitator at Startup Weekend, Investor at Hackers/Founders and Global Shaper at World Economic Forum. Former Regional Manager @ Techstars Latam, Country manager @ NXTP Labs and EXR Consultant @ IADB. Community builder, social impact enabler and tech enthusiast.
Mentor
Anahí Belén
Reason for being involved in workshop:
Porque me da la posibilidad de empoderar a otras mujeres a ser oradoras líderes
About Anahí
: Apasionada de la oratoria, de la educación, la robótica y coach de eventos Tedx y estudiante de Ingeniería Electrónica. ViceChair de WIE (Women in Engineering) de mi universidad, donde buscamos cerrar la brecha de las mujeres en la Ciencia y la Técnica.
Access Information
Getting to the venue
Public Transport
Is there a public transportation stop near the venue? Yes
Notes:
Metrobus sobre Juan B. Justo, líneas 39 y 111 a una cuadra
Are public transportation stops accessible to people using mobility devices? No
Are public transportation stops accessible to people using service animals? No
Are public transportation stops accessible to people who are sight impaired? No
Is the area around the venue safe and well-lit? Yes
Parking
How close is parking to the venue?
Garage en Humboldt 1650
Are there costs associated with parking?
Sí, costo por hora
Is the parking lot well-lit? No
Is the parking lot gated? No
Is the parking lot guarded? No
Accessing the venue
Is there any building security? Yes
What is the process for entering?
Registro completado en la web del evento e ingresar con DNI al edificio
Are there steps going into the building or space?
Entrepiso, oficina 03
Are there ramps or elevators?
Sí
Are elevator buttons of an appropriate height for wheelchair users to reach?
Sí
Is there affordable childcare at or near the venue?
The Venue
Is there a quiet room? No
Is there a nursing room for parents with a newborn? Yes
Is the venue safe for small children? Yes
Is the space easily navigable for people using mobility devices or service animals? Yes
Do chairs in the venue have arms? No
Are food and (non-alcoholic) drinks allowed in the space? Yes
Notes:
Medallia se va a hacer cargo del almuerzo y coffee break, además de las bebidas.
How many bathrooms (both single and multiple occupancy) are available?
2
How many wheelchair accessible stalls are there?
1
How many gender-neutral bathrooms are available?
2
Book your free ticket