Location
1 Newtown Avenue, Killarney
Organiser
Gergana Young
Reason for being involved in workshop:
I think it is really important to promote diversity in our community. It took me a really long time to convince myself that I should submit something to a conference. I would like to help people, so that they don't have to worry about that as much as I did.
About Gergana
: I am a South African software developer, adventurer, and Star Wars geek extraordinaire. Intending on making a career of reprogramming astromech droids with JavaScript, I abandoned the Imperial Academy and defected to BBD. After a tour of duty in the banking sector, working on .NET, JavaScript, Angular and Meteor, I finally found my place in the R&D team. In my spare time I build cool software and "things" for my other passions: rock climbing, running and, of course, Star Wars.
Facilitator
Mike Geyser
Reason for being involved in workshop:
To help grow new speakers! We need more, and different, voices to be heard in order to create a diverse and healthy tech community. <3
About Mike
: Mike Geyser is a Google Developer Expert in Web Technologies from Johannesburg, where he works in the R&D team at a company called BBD. He is a co-organiser of the Jozi.JS and Docker Johannesburg meetup groups, and is a frequent technical speaker. He has been hacking on the web since Geocities was a 'thing', and has the keening wail of dialup modem etched into his subconscious. While he is fluent in several 'golden hammer' programming languages, he has a long-lived love affair with JavaScript, and cannot see its (many, obvious) flaws. He has worked on lots of interesting enterprise applications, but it is the challenges of the public web that really appeal to him - having spent his formative years building transactional websites. He is always eager to talk about the web platform, but be warned, he is prone to hyperbole.
Mentor
Ridhwana Khan
Reason for being involved in workshop:
I'd love to see more diversity in speakers at conferences and the only way to make that happen is through support and encouragement of new speakers.
About Ridhwana
: Ridhwana Khan is an entrepreneur and a software developer. She is constantly fulfilling her passion of finding solutions to problems that meaningfully impact peoples lives through software consulting. Ridhwana is involved in multiple activities that empower women in tech. She is also a co-founder of a Non Profit Organisation called Kasi-Maths which focusses on assisting children in poorer communities to understand mathematics. Ridhwana had also co-founded a software development company which she helped build through it's early stages.
Mentor
Peter-John Welcome
Reason for being involved in workshop:
Would love to help more South African to apply and be successful at conferences
About Peter-John
: P-J, who is based in Johannesburg, South Africa, is the Mobile Engineering Lead at DVT where he develops iOS and Android app and teaches these technologies to graduates. Everyone knows that he enjoys trying new and different technologies and being an explorer in the technology world. He has worked on many apps from event and small business apps to enterprise banking apps. He also maintains some open source projects, apps, is a co-organiser for GDG Johannesburg, main organiser of DevFest South Africa conference, speaks at meetups and conferences and blogs about development technologies on Medium.
Mentor
Patrick Kayongo
Reason for being involved in workshop:
I've had the opportunity to do a number of meetup talks and a conference talk. Would like to mutually encourage other technologists to increase the number and diversity of speakers in Johannesburg.
About Patrick
: Patrick Kayongo is a Ugandan-born, South African-raised, Pan-African software developer with a passion for crafting software for the flourishing of communities, cities, countries and the African continent. When he's not developing software, he can be found spending time with his wife and son, reading good literature, or playing a musical instrument.
Mentor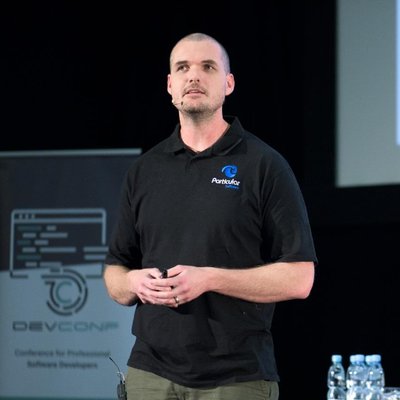 William Brander
Reason for being involved in workshop:
Help new speakers gain confidence to submit talks at conferences
About William
: A professional geek, William works for Particular Software writing amazing software like NServiceBus. Passionate about the web and security, he is engaged in a sordid love affair with JavaScript, and spends most of his free time trying to convince others of it's beauty and elegance. When not behind his laptop hacking away, this amateur beer enthusiast can often be found playing boardgames or drinking cold-brew coffee.
Mentor
Richard Young
Reason for being involved in workshop:
I would like to help make the tech community more diverse and inclusive, and in the process I believe I will learn a lot as well.
About Richard
: I am a software developer at IBM Research. I enjoy tacking hard problems and learning new languages, frameworks and paradigms.
Mentor
Rebecca Franks
Reason for being involved in workshop:
I would love to help others get access to great opportunities and I believe speaking helps.
About Rebecca
: Android Engineer at Over. Google Developer Expert for Android. International Speaker.
Mentor
Ryan Travis Kotzen
Reason for being involved in workshop:
I heard about the workshop from my good friend Gergana Young, and I feel that my experience speaking at conferences could be helpful to the attendees. I believe getting more points of view heard in our dev community helps makes the community stronger.
About Ryan
: Ryan Kotzen is an aspiring stoic, essentialist, polymath, polyglot software engineer, and armchair philosopher. Ryan is a believer in constantly evolving and evaluating what you are doing, utilising concepts from lean, kaizen, XP and the agile manifesto to name a few. Ryan has a passion for coaching and learning from other people. When not developing software, Ryan likes to spend his time airbrushing, geeking out on a geeky movie/series/book, playing Kerbal Space Program and all aspects of the Warhammer 40k hobby.
Mentor
Nhlanhla Lucky Nkosi
Reason for being involved in workshop:
Being able to speak publicly about what I do helps reinforce what I know. The engagement with audiences and other speakers always teaches me something new. Speaking has helped grow my confidence and opened new doors for me. I want to get better at it while helping others grow and take advantage of the opportunities too.
About Nhlanhla
: Lucky Nkosi is a software developer at BBD in Johannesburg. He has largely spent his time building and maintaining enterprise banking software with .NET, JavaScript, Angular & Visual Basic 6 (yes, in 2018). He has now moved to R&D at the company. Lucky is also currently a post-graduate Game Design student at Wits - The university of the Witwatersrand, Johannesburg - growing on his undergraduate Engineering Degree in Game Design. Lucky is an activist and is passionate about using technology and tech education to positively impact on the lives of youth and bring about social cohesion in South Africa. In his spare time, he also serves on the National Department of Arts and Culture's Social Cohesion Advocates Board.
Mentor
Ruddy Riba
Reason for being involved in workshop:
- Love sharing knowledge and being around people with the same purpose - Love learning new things about others and myself
About Ruddy
: Ruddy Riba is a software developer passionate about all things software. Knows a few stuff about web and backed technologies and has worked in JavaScript, Java and recently Kotlin. She has a new found interest in reading books writen by Africans for the world, loves traveling and hates selfies. She runs an organisation called Pink-IT supporting females in the software development, mentoring and sharing knowledge. #Thefutureisfemale.
Mentor
Peter Gwaka
Reason for being involved in workshop:
I always enjoy being of service to other people, especially when they are trying to break new ground. For the last two years I have been on a journey to become a conference speaker. It has been a tough journey which has helped me discover things about myself that I had never known. Special thanks to some of my peers and workmates who encouraged and helped me throughout this journey. I would like to be part of someones journey, I would like to assist in growing the diversity and number of speakers we see at conferences. There is a lot of potential that just needs to be unlocked. This is why I would love to be a part of this workshop.
About Peter
: An ambitious problem solver with a passion for software development, javascript and technology as a whole. Peter studied business information systems and afterwards ventured into software development where he found his true calling. Over the last 5 years, Peter has been involved in many different projects which have given him much experience in creating logical and innovative solutions to complex problems. More recently, Peter has found himself working a lot in the serverless space and has managed to deliver 2 talks in this area. Peter hopes to continuously grow his skills in software development and also add value to the software community.
Book your free ticket